At the end of our lives, we will count our adventures,
not our years.
Elizabeth City is where the Inner Banks and Outer Banks meet. Some of our visitors go wild being surrounded by more than 20,000+ acres of state parks. Paddle or sail on the 22-mile Dismal Swamp Canal, connecting the Chesapeake Bay and Albemarle Sound, rich in wildlife and history. Envisioned by George Washington and Patrick Henry in 1773, the canal was carved out of the million-acre Dismal Swamp and helped create a township attracting inventors and adventurers, including the Wright brothers. Or watch a sunset paint the sky and sea glorious colors from atop Jockey's Ridge, the East Coast's largest sand dune – it's easy to see how this area inspired the Wright brothers' dream of flight.
If you prefer walking on the wild side, come to Pettigrew State Park where you might see some of the world's largest black bears. Best time for viewing black bears is May through October or during the Black Bear Festival at Plymouth, NC, June 2-3. Did we mention the influx of winter waterfowl that visit the park November-February? Tundra Swans and snow geese have been counted in the thousands, it's amazing to view the large quantities of these incredible birds on Lake Phelps, one of the largest lakes in North Carolina. The legendary Pasquotank River and Elizabeth City's central location in a region of American and North Carolina firsts makes it a perfect base camp for the adventures of a lifetime.
Start your adventure here.
---
Day 1
Rent a Kayak from Pelican Marina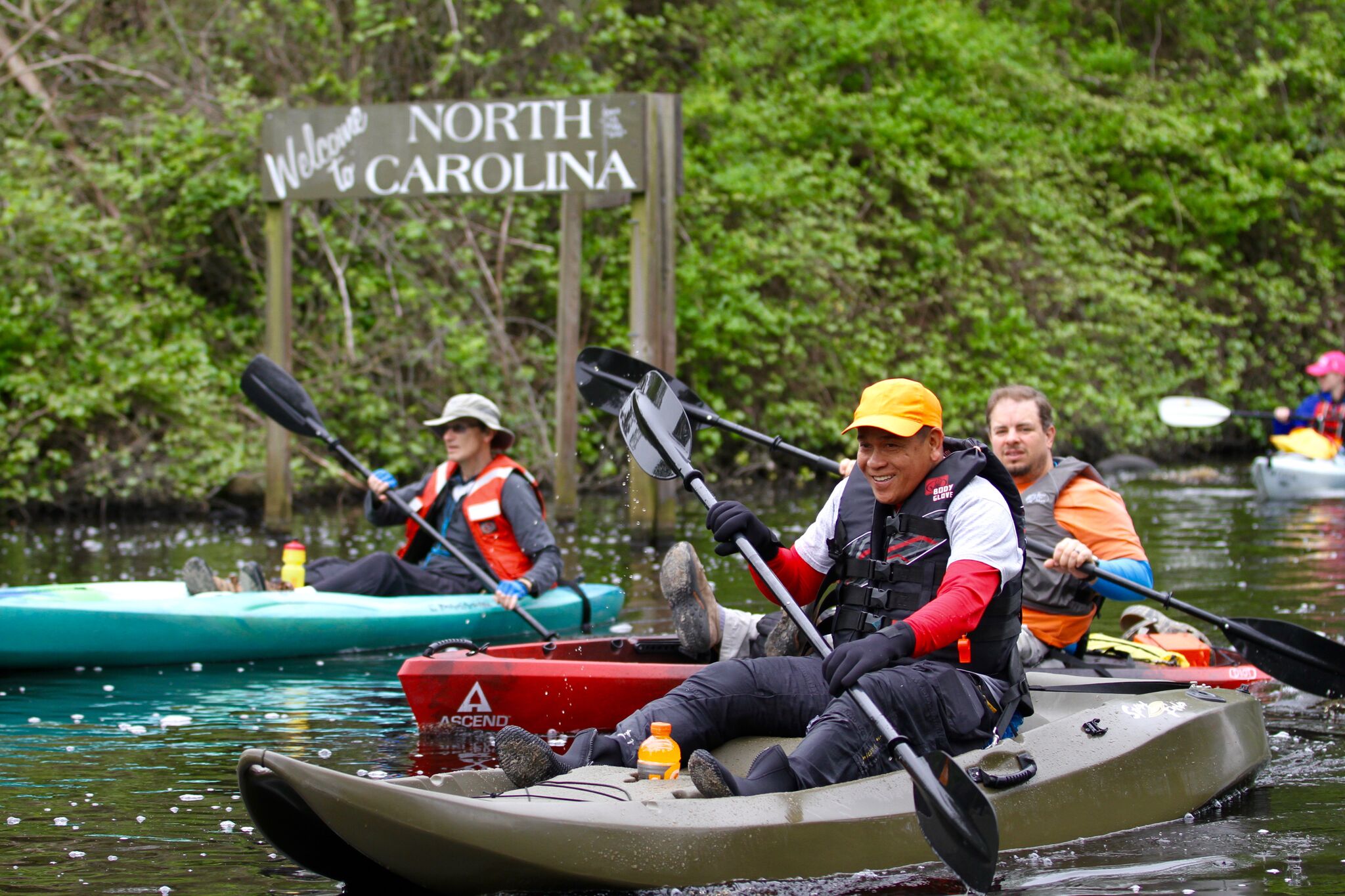 43 Camden Causeway, Elizabeth City, NC 27909
(252) 335-5108
Kayak Saywers Creek Trail, Big Flatty Creek or Newbegun Creek and paddle/kayak fish
5 Best Places to Kayak Around Elizabeth City, NC
Sawyer's Creek Ramp 155 N Carolina Hwy 343 S, Camden, NC 27921
Big Flatty Creek Ramp – The Big Flatty boat ramp offers single launching lane, courtesy dock and parking for about 12 boat trailers. 265 Shadneck Rd, Elizabeth City, NC 27909
Newbegun Creek Ramp
Ride bike around Elizabeth City on bike routes
Elizabeth City's Best Places to Bike
Play golf at The Pines at Elizabeth City
The Pines winds its way through the Albemarle pine thickets and features elevated greens, wide fairways and large chipping areas. The course features plush Bermuda fairways and Bentgrass greens.
1525 N Road St, Elizabeth City, NC 27909
(252) 335-0278
Tee Times/Rates
Have dinner at Paradiso Roma Ristorante
TripAdvisor Reviews – 3.5 stars
Menu
---
Day 2
Go on a half-day fishing trip with Albemarle Fishing Charters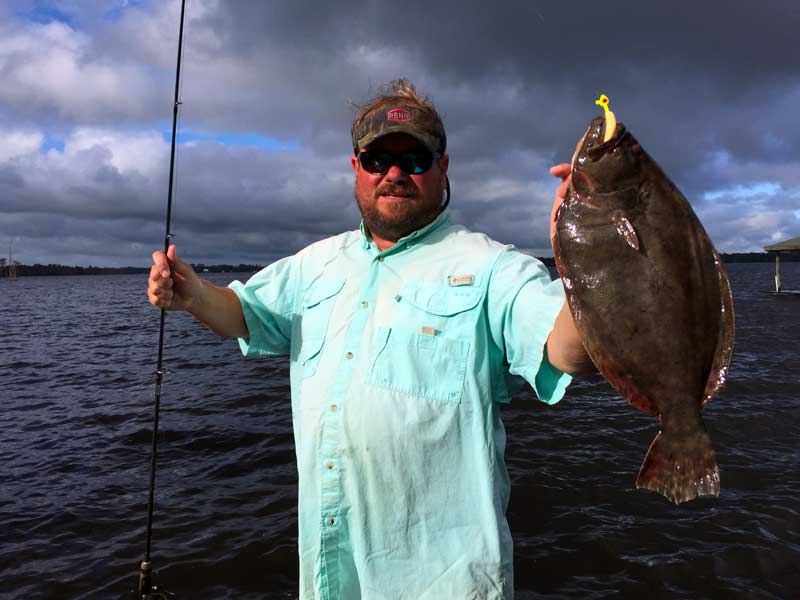 Inshore, light tackle fishing trips on the Albemarle Sound and its tributaries including the Pasquotank, Perquimans, Chowan, Little and North River. Charter trips are also available for both the Currituck Sound and Manns Harbor in North Carolina, and Elizabeth River Hot Ditch in Virginia.
701 South Adams Landing Rd. Elizabeth City, NC 27909
(252) 264-4567
Rates
Grab lunch to go at The Flour Girls Cafe and Bakery
102 N. Water Street Elizabeth City, NC 27909
(252) 331-2230
TripAdvisor Reviews – 4 stars
Menu
Spend the afternoon at the Dismal Swamp kayaking, biking and hiking
Dismal Swamp State Park allows a unique wilderness experience in a landscape that has been witness to American Indian hunting parties, exploration by George Washington and the story of the Underground Railroad. The park features 20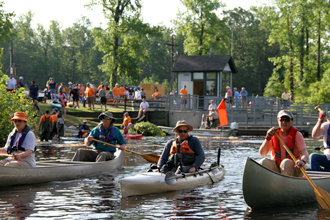 miles of trails, beyond a 2,000-foot boardwalk that puts visitors in the midst of the Great Dismal Swamp. Birding and viewing abundant wildlife are favored activities. Mountain biking on the trails and kayaking the adjacent Dismal Swamp Canal are both encouraged. Visitors may bring their own equipment or rent at the park. Regular interpretive programs about the wetlands ecology and history of the famed swamp complement museum-quality exhibits in the visitor center.
2294 US 17 North South Mills, NC 27976
(252) 771-6593
Dinner at Cypress Creek Grill
Tex-Mex, Creole & Gulf Coast seafood favorites abound at this comfy eatery with a full sit-down bar.
113 S Water St, Elizabeth City, NC 27909
(252) 334-9915
TripAdvisor Reviews – 4.5 stars
Menu
---
Day 3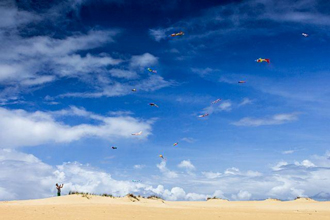 Head out to the Outer Banks
Visit Jockey's Ridge State Park
The tallest "living" sand dune on the Atlantic coast is a premier location for kites, sightseeing and sunsets, with a view arcing from the ocean to Roanoke Sound. A visitor center with a museum and 360-foot boardwalk with exhibits explain the dune's ecology and are a gradual entry to the massive dune field. Sandboarding is welcome with permit and hang-gliding is available through a vendor. Shoes and sun protection are recommended. By calling ahead 24-hours in advance, it's possible for mobility-impaired visitors to schedule a ride in our all-terrain-vehicle to the top of the dunes. The soundside access of the park is a different experience offering sunbathing, wading, paddling and a one-mile nature trail that opens onto wetlands, grassy dunes and maritime thickets.
300 W Carolista, Nags Head, NC 27959
252-441-7132
Go dune hang-gliding with Kitty Hawk Kites
Dune Hang Gliding lessons are conducted at our training facility in Jockey's Ridge State Park located at Mile Post 12 in Nags Head, NC. The dunes of Jockey's Ridge provide the perfect platform for learning to hang glide. They have plenty of height for beginners and are soft for landing. Through a special arrangement with the State Park Service, they are allowed to conduct hang gliding lessons from these dunes. Kitty Hawk Kites has been providing lessons at this site for over 25 years. Lessons are 3 hours long, price range $99-109.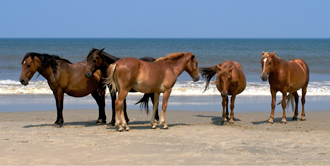 Take a wild horse tour with Wild Horse Adventure Tours
610 Currituck Clubhouse Dr, Corolla, NC 27927
(252)-489-2020
Tour is approximately 2 hours long.
TripAdvisor's #1 Tour Company in the U.S. from 2012-2016