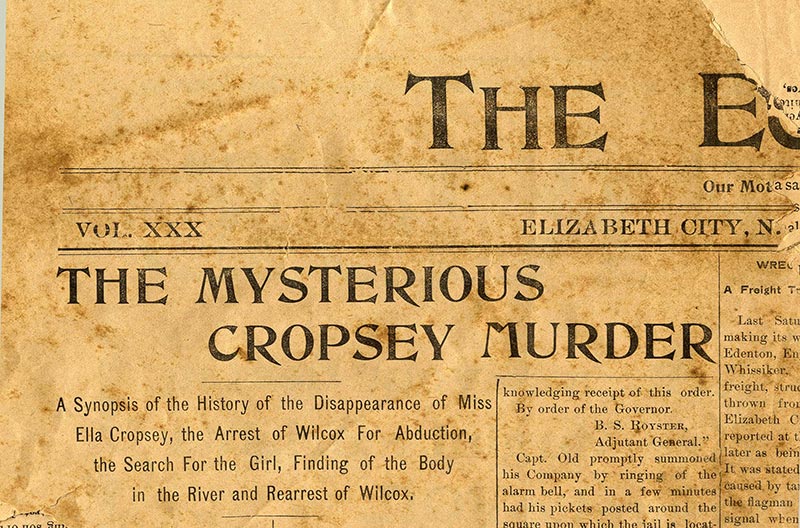 Friday, October 8, 2021 - Saturday, October 9, 2021
5:30 PM - 9:30 PM
***Due to public health concerns, organizers have made the difficult decision to cancel this event.***
The award-winning annual Elizabeth City Historic Ghost Walk is a family-friendly, fun and creative way to watch our local history come alive. No need to fear, our ghostly apparitions only wish to entertain as they spin their tales.
Ghost Walk invites you to enter seven different historic homes where you'll meet a friendly apparition who will draw you into the tale of their life and time in Elizabeth City during bygone days. Upon bidding adieu to your ghostly host, enjoy a leisurely walk from site to site or take advantage of complimentary trolleys.
This year's ghostly theme is the Murder of Nell Cropsey, an unsolved Elizabeth City mystery! In 1901, 19-year-old Nell disappeared from her family home after arguing with her boyfriend, Jim Wilcox. Wilcox was arrested and already in jail when Nell's body was discovered floating in the Pasquotank River near her family's home over a month later - though the autopsy report states there was no water in her lungs. Wilcox was convicted for Nell's murder, but later pardoned. He maintained his innocence throughout his life.
The Elizabeth City Historic Neighborhood Association hopes you enjoy Elizabeth City's architectural history and your visit with its ghostly spirits through a combination home tour, history lesson, and live theater.
Location
Historic Downtown & Museum of the Albemarle
501 South Water Street
Elizabeth City, NC 27909

For more information visit our website.
Contact Information
(252) 338-6455

Admission: Admission Fee
Military: $12
Adults: $15
Children: $12