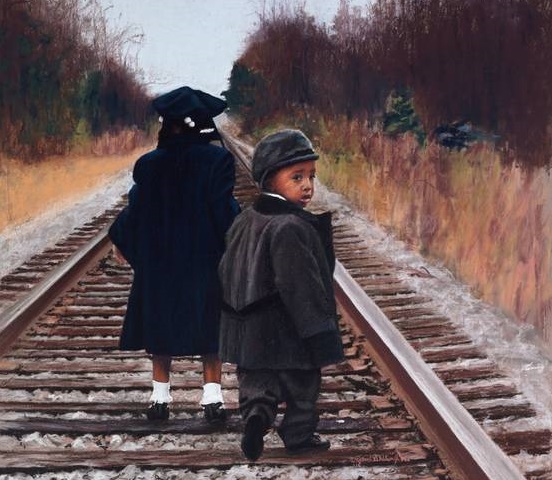 Saturday, October 24, 2020
10:00 AM - 3:00 PM
Join us at Arts of the Albemarle to view the striking artwork of Mr. Richard Wilson - AoA's October featured artist!
Richard Wilson was featured in the Wall Street Journal as "one of the most successful artists that you're likely to meet!"
Mr. Wilson's artwork will be on display at Arts of the Albemarle throughout the month of October. AoA is open Tuesday-Friday 10am-4pm and Saturdays 10am-3pm. Free admission!
Richard Wilson is a visual artist who uses reality and creativity to produce images that reflect the beauty of the world around him. He is most proud of his official portrait of George Henry White, the last former slave to serve in Congress, and the fact that he is the first African American artist to have a portrait publicly displayed in a North Carolina courthouse. Wilson was recently commissioned by the University of Georgia to paint a portrait of Mary Frances Early, the first African American to graduate from the University. He was also selected by Blue Moon Brewing Company as one of the 20 "Up and Coming Artists" in the US who were asked to design a Limited Edition label for the 20th Anniversary Blue Moon Artist Series bottles.
During his career, Richard Wilson has received numerous local, national, and international awards. His notable collectors include Legendary Hall of Fame baseball player Henry 'Hank' Aaron, and Tina Knowles, designer & mother of singer Beyoncé Knowles, as well as Gladys Knight, Tom Joyner, Ed Gordon, Victoria Rowell, Bev Smith, Anne & Clifton Davis, Wendy Raquel Robinson, Judge James Wynn and many others. Mr. Wilson's work can be viewed in books and museums, as well as private and public collections - and even the movie "Barbershop--The Next Cut."
Please wear a mask for everyone's safety when entering the gallery.
Location
Arts of the Albemarle
516 East Main Street
Elizabeth City, NC 27909

For more information visit our website.
Contact Information
(252) 338-6455

Admission: Free Admission